Felony Expungement
"Fresh Start Law Center was a lifesaver! They listened to the details of my situation and explained the law to me. They quickly filed my petition, and handled everything from start to finish. Now my felony has been expunged and I can finally hold my head high in job interviews and answer questions honestly.
I am so thankful I hired them."
Early Probation Termination
"I thought I was stuck until my probation was over, and a friend told me about Fresh Start. I signed up for their early probation termination service and within 2 months I was off of probation plus my felony was expunged at the same time. What a huge relief it has been on my life. I am sure glad I found Fresh Start Law Center."
DUI Expungement
"I was crushed when I got my DUI and just wanted to put it behind me. Fresh Start got me off of probation early and then expunged my DUI conviction. What a relief it has been! I am so glad I found them. They were extremely friendly and easy to work with?"
Arrest Record Sealing
"I had a horrible experience wherein I was wrongfully arrested for being in the wrong place at the wrong time. Fresh Start assured me they could help me and they sure did. It only took about 3 months to get the arrest record sealed which was very satisfying."
Drug Diversion Case Sealing
Were you given diversion for you drug case? Did you complete all of the requirements of your diversion program? If you answered yes, we can help you get all the records pertaining to your arrest and charges sealed, meaning the information regarding your drug case will be unavailable to the public. Although successfully completing the diversion program will remove the conviction from your record, you will still have a record showing the arrest and the charges that were brought against you, and this information is a matter of public record. California Penal Code section 851.9 allows us to file a petition on your behalf requesting a court order that will completely remove all associated case information (arrest records, filed charges by the District Attorney, etc.) from the involved agencies. If we are successful in getting your drug diversion case sealed, you can legally and honestly state you were not arrested or charged in connection with the drug case, and the information pertaining to the case will be removed from the public sphere.
Our law firm specializes in sealing drug diversion cases under Penal Code 851.9, which allows us to offer our expert legal services at an affordable fixed price.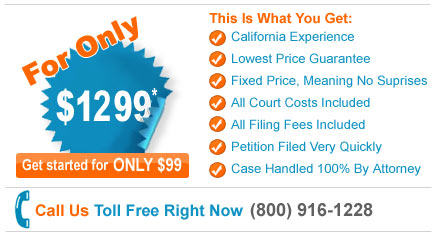 California Drug Diversion Sealing Summary
California Penal Code 851.9 allows a person that has successfully completed drug diversion to petition the court to request a court order that will seal all arrest and charging information associated with the case. If successful all information associated with the drug case will be removed from the public record. Once the record has been ordered sealed by the court you can truthfully tell employers, your family, and all other interested parties that you have not previously been arrested on drug charge(s). This puts you on equal footing in this tough employment market where more than 80% of potential employers conduct criminal backgrounds checks.
If you have been charged with a drug offense in the state of California, your case is eligible for Penal Code 851.9 relief if you satisfy the following criteria:
The court ordered a drug diversion program pursuant to PC 1000.5 or a deferred entry of judgment program pursuant to PC 1000 or PC 1000.8.
You successfully completed your diversion program without problems.
You do not have any subsequent drug convictions.
You are not currently charged with another criminal offense, on probation for another criminal offense, or serving a sentence for another criminal offense.

An experienced lawyer will handle your diversion sealing case from beginning to end. We are dedicated to getting records sealed in the quickest possible manner. The average case will take 6 - 12 weeks depending on the courts and how backed up they are. All cases are heard on a first come, first served basis and thus time is of the essence in getting your case started. In almost all cases you will not be required to appear at any court hearings, as we appear on your behalf to represent your interest. Our focus and expertise in California post conviction relief laws allows us to offer our services at the absolute lowest fixed prices, meaning there will never be any surprises with the costs down the road. See the chart below for everything that is included in our low fixed fee.

Benefits Of Drug Diversion Sealing In California
Other then the mental relief one can experience with a drug charge, there are many tangible benefits that a California drug diversion case sealing offers:
Seals the arresting agency's record of the incident.
Seals the court records regarding the entire case.
In almost all cases private employers cannot ask about arrest that were sealed under Penal Code 851.9 (check out our $3,000 Non-Discrimination Guarantee).
You can truthfully, and legally, answer "NO" on private sector job applications when asked if you have ever been arrested.
You can greatly increase your earning capacity by becoming eligible for more employment opportunities.
You become eligible for many types of professional licenses and certificates
You can become eligible for student loans.
You can become eligible for housing assistance.
You can tell friends and family that you have not been arrested.
You have the satisfaction of forgetting the past for good and moving forward into a more positive future.
Why It Is Important To Hire An Experienced Attorney
Hiring an experienced attorney is essential to the success of your drug diversion case sealing. The applicable laws can be complex and it is critical that all the necessary documents get filed with the court and that all the required steps are followed in a timely manner. Often a hearing is required in a matter of this type. If a hearing is required we attend on your behalf and represent your interest vehemently.

From the moment you hire us up through the very end of the case, we will be there for you every step of the way. Due to the fact that we only focus on post conviction relief in California, we are able to provide expert drug diversion case sealing legal services at the absolute lowest fixed prices. Below is a list of the services that are included in our price as compared to some non-attorney sites out there.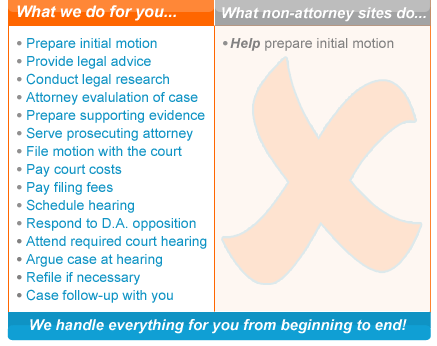 The sooner you get started, the sooner you can forget the past and embrace the future. We will start on your sealing case right away, applying our expertise to the unique details of your case. Thank you for taking the time to consider our California drug diversion case sealing service. We truly look forward to helping you in any way we can. Please feel free to reach out to us with any questions you might have (Toll Free: 800-916-1228).
Sincerely,


David Huffman, Esq
Founding Attorney, Fresh Start Law Center