Felony Expungement
"Fresh Start Law Center was a lifesaver! They listened to the details of my situation and explained the law to me. They quickly filed my petition, and handled everything from start to finish. Now my felony has been expunged and I can finally hold my head high in job interviews and answer questions honestly.
I am so thankful I hired them."
Early Probation Termination
"I thought I was stuck until my probation was over, and a friend told me about Fresh Start. I signed up for their early probation termination service and within 2 months I was off of probation plus my felony was expunged at the same time. What a huge relief it has been on my life. I am sure glad I found Fresh Start Law Center."
DUI Expungement
"I was crushed when I got my DUI and just wanted to put it behind me. Fresh Start got me off of probation early and then expunged my DUI conviction. What a relief it has been! I am so glad I found them. They were extremely friendly and easy to work with?"
Arrest Record Sealing
"I had a horrible experience wherein I was wrongfully arrested for being in the wrong place at the wrong time. Fresh Start assured me they could help me and they sure did. It only took about 3 months to get the arrest record sealed which was very satisfying."

"Wet" Reckless & DUI Expungement
Getting a DUI or "wet" reckless can be one of the most embarrassing things a person can face in their adult life. Unlike other crimes, a DUI conviction can happen to almost anybody. Fortunately, a DUI or "wet" reckless conviction does not have to stay on your criminal record forever, allowing you to put the mistake behind you and to move into your future with a positive outlook. We are able to file a petition with the court on your behalf under California Penal Code 1203.4 asking the court to expunge your DUI or "wet" reckless conviction. This petition, once granted by the court, will set aside your original alcohol related conviction, allowing you to pursue employment opportunities with confidence and to answer honestly that you have never been convicted of a crime.
What is the difference between a DUI and a "wet" reckless conviction?
Our law firm specializes in expunging DUI and "wet" reckless convictions in California, which allows us to not only provide very specialized service, but to also provide these services at the absolute lowest fixed costs anywhere (we guarantee the lowest price). Also the fixed costs mean no uncertainty or surprises for you down the road. Your case will be handled from the beginning by an attorney who specializes in California expungements of "wet" reckless and DUI convictions, so you can rest assured you are in good hands.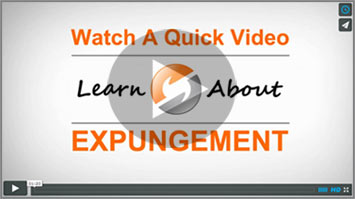 Unique Tailored Approach:
No two cases are exactly the same, and it is important that the attorney you hire spends the time to understand the unique details of your situation. We specialize in focusing in on the unique facts in your DUI case, allowing us to craft the strongest arguments possible for the court. This unique tailored approach gives us the best chance at getting you a successful outcome in your DUI expungement case, and has allowed us to win over 96% of our DUI expungement cases overall. Why would you settle for anything less?
Trusted Experience:
We have successfully won thousands of criminal expungement cases for our clients in the state of California, and we take great pride in providing top notch customer service throughout the process. We have an A+ rating with the BBB, and have an established reputation for stellar customer service (Yelp - 5 Stars, TrustPilot - 5 Stars, TrustLink - 5 Stars).
No Hidden Fees, No Games:
Beware of any law firm that has hidden fees on their DUI expungement service (example: processing fees, filing fees, hearing fees, etc.). We are one of the only criminal expungement law firms that offers fixed low pricing for DUI expungement, meaning everything is included in our pricing. There will never be any hidden fees, games or suprises down the road with us. Our single low price covers everything from start to finish, period. NO HIDDEN FEES ever. The thing about hidden fees, is they seem to just keep popping up.
Criminal Database Updating After DUI Expungement:
All criminal databases used for employment background checks, both private and public, will update automatically within 30 days after your DUI expungement is complete. You should never pay a company, or a law firm, for any service that claims to "expedite" this updating process. Learn the truth, protect yourself here.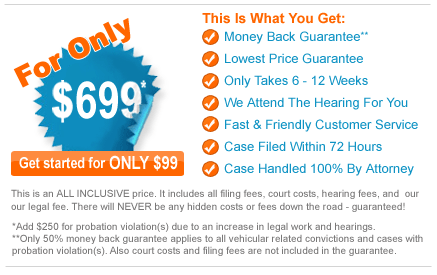 Expedited Service
We are able to expedite this service in most counties, taking the average processing time from 6-12 weeks down to just 18-30 days for those that need to put their past behind them in a hurry. This expedited service, when available, is only an extra $399. Please call us if interested in this service to find out if the service is available in the county where your conviction took place.
Multiple Cases?
If you have multiple criminal cases that you would like to expunge, please contact us for a free consultation. We will assess your situation, discuss your options and provide you with discounted pricing (our pricing goes down with each additional case we handle for you). Please call us toll-free at (800) 916-1228.
California "Wet" Reckless And DUI Expungement Summary
Fortunately in California the legislature has decided that people deserve a fresh start after a "wet" reckless or DUI conviction. California Penal Code 1203.4 allows a person with a alcohol related misdemeanor conviction to petition the court to have them re-open the case, set aside the guilty plea, the Nolo contendere (no contest) plea, or the factual finding of guilt, and to set aside the conviction and dismiss the case. Moving forward you will no longer be considered convicted of the "wet" reckless or DUI by the state of California, and your criminal record will be permanently changed to display a dismissal rather than the alcohol related misdemeanor conviction. Subsequently, once the conviction is expunged by the court you can truthfully tell employers, your family, and all other interested parties that you have not previously been convicted of a crime. This not only allows you to forget the mistake you made in the past, but also gives you enhanced marketability in a tough job market wherein over 80% of potential employers conduct criminal backgrounds checks.
If you have been convicted of a DUI or "wet" reckless in the state of California your conviction is qualified for Penal Code 1203.4 misdemeanor expungement relief if you satisfy the following criteria:
You have successfully completed probation (informal or formal), or if you were not given probation one year must pass since your conviction date. If still on probation check out our early termination of probation service.
You must have satisfied all the requirements of your sentence (fines, restitution, mandatory programs, community service, classes, etc.).
You are not currently charged with another criminal offense, on probation for another criminal offense, or serving a sentence for another criminal offense.
An experienced and knowledgeable attorney will handle your case from beginning to end. Our law firm specializes in successfully getting California "wet" reckless and DUI convictions expunged from your criminal record. The average DUI expungement case takes anywhere from 6 - 12 weeks in the state of California. It is almost never necessary for you to appear in court, as we appear for you and argue on your behalf at all mandatory hearings. Because we specialize in DUI expungements and handle so many similar cases, we are able to offer our services at the lowest fixed prices online. These fixed prices mean that there are never any hidden, or surprise, fees that you need to worry about. We handle everything for you, from start to finish. Take a look at the chart below to see exactly what our DUI expungement service includes.
NOTE: One thing to note about DUI and "wet" reckless expungement is that there is a misperception out there that after a certain amount of time your DUI conviction gets removed from your criminal record automatically. This belief is untrue, as your conviction will never be removed from your criminal record unless expunged under California Penal Code 1203.4 by petitioning the court. It is also important to note that expunging your DUI or "wet" reckless from your criminal record will not have any effect on your DMV record, by which your driving privileges are dictated. Lastly the expunged conviction will still be considered as a prior DUI conviction if you are convicted again of an alcohol related vehicular violation, meaning your sentencing on the subsequent conviction will be in line with repeat offender sentencing guidelines. It takes 10 years for a prior DUI conviction to become irrelevant in terms of subsequent alcohol related convictions and to be removed from you DMV record.
We have tremendous expertise in the area of DUI and "wet" reckless California expungements, and we can help you forget your past and embrace the future.

Benefits Of "Wet" Reckless & DUI Expungement
Other then the mental relief one can experience with an alcohol related misdemeanor expungement, there are also many tangible benefits that a "wet" reckless or DUI expungement offers:
In almost all cases private employers cannot ask about convictions that were dismissed under Penal Code 1203.4, nor can a conviction that was dismissed be considered for employment purposes.
Your past DUI or "wet" reckless conviction will not show up on most employer background checks.
You can truthfully and legally answer "NO" on private sector job applications when asked if you have ever been convicted of a crime.
You can greatly increase your earning capacity by becoming eligible for more employment opportunities.
You become eligible for many types of professional licenses and certificates
You can become eligible for better student loans.
You can become eligible for better housing assistance.
You can tell friends and family that you have not been convicted of the DUI or "wet" reckless.
You have the satisfaction of forgetting the past for good and moving forward into a more positive future.

Why It Is Important To Hire An Experienced Attorney
DUI and "wet" reckless expungement law is fairly complex and hiring an experienced and knowledgeable attorney is essential to the success of your expungement case. We will analyze the details of your case, making sure that all appropriate documents and evidentiary support get filed with the proper court, and that all the necessary steps are followed in a timely manner (e.g., the prosecuting attorney must be given 15 day notice, etc.). Also many times with DUI or "wet reckless" expungements an adversarial hearing is required. We attend this hearing for you, and argue in front of the judge on your behalf, meaning that you are almost never required to appear in court. Furthermore, the prosecuting attorney will often file opposition papers when an alcohol related conviction is involved, which requires a concise response with evidentiary support in favor of the petition. We handle every aspect of the case for you, optimizing your chances of a successful expungement.
From the very first day you hire us to handle your DUI or "wet" reckless expungement case until the day the case has been resolved, we will be there for you every step of the way. Due to the fact that we specialize in California expungement law, we are able to offer our services at the absolute lowest fixed prices anywhere. You will see a list below of what our DUI and "wet" reckless expungement service entails versus what some non-attorney websites offer.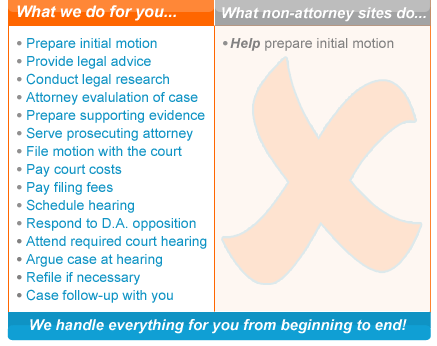 Isn't it time you took the steps to forget the past, allowing you to fully embrace the future. Once you sign up we will start on your case immediately, applying our expertise to the unique details of your situation. We offer the lowest fixed price for California DUI and "wet" reckless expugnement anywhere (we guarantee our low prices), and we are experts in California expungement relief. Thank you for taking the time to consider our California DUI and "wet" reckless expungment services and we hope you found the information on our website helpful. We truly look forward to helping you in any way we can.
Sincerely,


David Huffman, Esq.
Founding Attorney, Fresh Start Law Center