Felony Expungement
"Fresh Start Law Center was a lifesaver! They listened to the details of my situation and explained the law to me. They quickly filed my petition, and handled everything from start to finish. Now my felony has been expunged and I can finally hold my head high in job interviews and answer questions honestly.
I am so thankful I hired them."
Early Probation Termination
"I thought I was stuck until my probation was over, and a friend told me about Fresh Start. I signed up for their early probation termination service and within 2 months I was off of probation plus my felony was expunged at the same time. What a huge relief it has been on my life. I am sure glad I found Fresh Start Law Center."
DUI Expungement
"I was crushed when I got my DUI and just wanted to put it behind me. Fresh Start got me off of probation early and then expunged my DUI conviction. What a relief it has been! I am so glad I found them. They were extremely friendly and easy to work with?"
Arrest Record Sealing
"I had a horrible experience wherein I was wrongfully arrested for being in the wrong place at the wrong time. Fresh Start assured me they could help me and they sure did. It only took about 3 months to get the arrest record sealed which was very satisfying."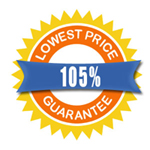 105% Lowest Price Guarantee
We are so sure that we have the lowest fixed prices for our expungement services that we guarantee it! If you find another law firm with an advertised price for one of our services that is less than our price we will not only match their price, but we will beat it by 5%.
This means that you not only get the peace of mind that you are working with one of the only law firms in California that specialize in expungement law, but that you are getting top notch expungement services at the absolute lowest fixed prices anywhere! Why pay more of your hard earned money when you don't need to?
How To Make Your 105% Claim
All price guarantee claims must be made before we start work on your case. To make a 105% price guarantee claim, just simply drop us an email at This email address is being protected from spambots. You need JavaScript enabled to view it. and include your name, your desired expungement service, and the location where we can verify the other advertised price (a URL, or attach a letter from another attorney, etc.).
Note: we have the right to refuse any case, for any reason.
Scare Tactics To Be Aware Of
You will come across a lot of law firms that tell you that "you get what you pay for." This is just something they say to scare you into paying their high legal fees. The fact is that we are one of the few law firms in California that specialize in expungement laws. This narrow focus allows us to not only acquire an acute expertise in California expungement law but also allows us to also work on a large number of similar cases wherein we can pool our resources, which results in specialized top notch legal services for you at affordable low fixed prices. You are free to pay more elsewhere, but why would you?
Details Of Guarantee
Here are some general details to be aware of when comparing prices and making a 105% low price guarantee claim with us:
All of our advertised prices are all inclusive, meaning you will never be surprised by extra legal fees or court costs down the road. Some law firms will advertise a low price to get you in the door, failing to tell you about surprise fees and/or costs that will be due later in the process. There are never any surprises with us. Consequently, any low price guarantee claim must include a published price from another law firm that includes all court costs, filing fees, hearing costs, etc.
When you sign up with us you will be working closely with a California licensed attorney. We will analyze your case under all applicable governing laws, we will provide you with legal advice, we will attend any hearings on your behalf that are required, and we will handle your case from start to finish applying our specialized legal knowledge to the unique facts of your particular situation. There are many non-attorney website out there that now claim to help you with your expungement case. These non-attorney sites are not able to provide you with legal advice, they cannot file your paperwork for you, and they cannot represent you in the legal matter in anyway. This means that they will only

help

you with the preparation of your initial motion and then you are on your own. If the DA apposes your motion, you are on your own. If a hearing is required, you are on your own. If the judge wants clarification, you are on your own. Consequently, any low price guarantee must include a published price from a law firm licensed to practice law in California.
We are one of the few California law firms to specialize in expungement laws. Our focus is only on the State of California and we do not offer our services in any other state. Consequently, any low price guarantee claim must include a published price from another law firm that offers their services to California residents.
We Value You As A Client
We started this law firm with one goal in mind and that was to help people forget about mistakes they made in the past so that they can move forward and fully embrace the future. We find great joy in helping our clients with their expungement needs. We really appreciate you taking the time to consider our expungement services, and we look forward to assisting you in the future.
Sincerely,


David Huffman, Esq.
Founding Attorney, Fresh Start Law Center