Early Termination Of Probation
If you are currently on probation in California but anxious to put the past behind you, we can petition the court under California Penal Code 1203.3 to have your probation terminated early and file a simultaneous petition under California Penal Code 1203.4 to expunge the underlying conviction, all at the same time. This process will allow you to eliminate the stiff restrictions that probation imposes on your life, and it will also allow you to seek employment with the full confidence that expungement of your past conviction provides. You will finally be able to answer "NO" truthfully when asked if you have been convicted of a crime, which is critical in a competitive job market wherein over 80% of employers conduct background checks.
Our law firm specializes in terminating criminal probation early for our clients, pursuant Penal Code 1203.3. Why wait to get your life back? A probationary term, and a criminal conviction, can hold you back from promising employment and housing opportunities, and we are here to help you put your mistake behind you as quickly as possible.
A Tailored Approach Unique To You:
Every case is unique, and it our goal to find the unique arguments in your situation that are capable of persuading the Court to grant relief in your case. We take great pride in getting to know the unique details of your life and how your criminal conviction is holding you back, and then utilizing this knowledge to draft the most persuasive, and compelling, arguments for the Court. Most other attorneys are simply checking boxes on a form and turning that form into the Court. Not us. We take the time to carefully draft a compelling motion, full of arguments that are unique to your situation, so to give us the best chance at success in our early termination of probation case. This approach has allowed us to win an overwhelming majority of our early termination of probation cases for our clients. Why would you settle for anything less?
Experience You Can Count On:
When you hire us to handle your early termination of probation case, you have the peace of mind of knowing you are hiring one of the only law firms in California to specialize in this area of law. This is all we do, and we pride ourselves on getting positive outcomes for our clients. We have successfully won thousands of criminal record clearing cases for our clients in the state of California, allowing our clients to move on with their lives. We also take great pride in providing impeccable customer service throughout the early termination of probation process. We have an A+ rating with the BBB, and have an established reputation for stellar customer service (Yelp - 5 Stars, TrustPilot - 5 Stars, TrustLink - 5 Stars).
No Hidden Fees, No Games:
Most attorneys hide their prices, or don't fully disclose all costs up front, which leads to unwanted surprises down the road. Beware of any law firm that has hidden fees on their early termination of probation service (example: processing fees, filing fees, hearing fees, etc.). You will never get any surprises with us. We are open and honest with you upfront in the process. We offer a fixed low price solution for our early termination of probation service, meaning you don't have to worry about legal fees piling up down the road. Plus, everything from start to finish is included in our fixed low price, including filing fees, court costs, appearances at hearings, etc. There will never be any hidden fees, games or surprises down the road with us. The thing about hidden fees, is they seem to just keep popping up.
Open & Honest Communication:
The #1 problem we here from our client's about their experiences with other attorneys is the difficulty they had getting status updates, or a call back. We strive to keep you updated with the status of your case throughout the process, and we make ourselves readily available to answer any questions you might have via the telephone, live chat on our website, and email. Furthermore, once you become a client we provide you with unique login credentials to access your account on our website, wherein you can check the status of your case at all hours of the day. We keep your account updated at all times. Thus, from the time you hire us you can rest assured that we will be there for you throughout the early termination of probation process.
Criminal Database Updating After Early Termination of Probation + Expungement:
All criminal databases used for employment background checks, both private and public, will update automatically within 30 days after the expungement is complete. You should never pay a company, or a law firm, for any service that claims to "expedite" this updating process. Learn the truth, protect yourself here.
Lowest Pricing + Fastest Service:
No other attorney in the state of California offers a lower price. Other attorneys charge $2,000 - $3,000 for this same service, and we will get it done for you in only 6-12 weeks! You benefit from our focus and expertise in this area of law.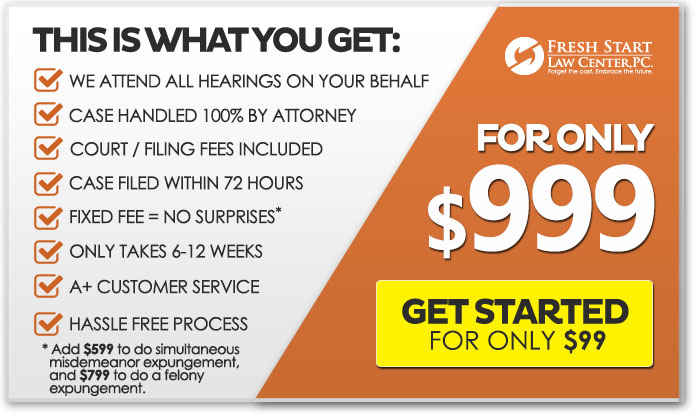 Early Termination Of Probation + Expungement Summary:
There is a misconception out there that you cannot expunge your misdemeanor or felony conviction until you have finished your probation in its entirety. The fact is that if you are currently on probation we can motion the court to terminate your probation early. The court, in its discretion, can order the early termination of probation in a misdemeanor or felony case at anytime under California Penal Code 1203.3. If the early termination is granted by the court, we then can expunge the underlying conviction, often doing all of this at the same hearing.
To qualify for our California early termination of probation and expungement service your case must meet the following requirements:
1You were charged and convicted in state court, NOT federal court (almost all crimes are heard in state court, so if you are unsure there is a very high probability that your case was heard in state court).
2You must currently be on probation. It is preferable that you have completed at least half of the probationary term, although this is not required. A the very least we would recommend that you complete at least one year of misdemeanor probation and at least 18 months of felony probation before seeking an early termination of probation with the court.
3You must have satisfied all the requirements of your sentence (fines, restitution, mandatory programs, community service, classes, etc.). The court will not consider terminating the probation early unless all the affirmative obligations of the sentence have been fully completed.
4You are not currently charged with another criminal offense, on probation for another criminal offense, or serving a sentence for another criminal offense (e.g., you are not on probation for more than one case, etc.)
The court will use the following criteria when deciding to grant a motion for early termination of probation in California:
1How serious the conduct was leading to the conviction? Obviously the more serious the crime was, the less likely the judge is to cut you a break.
2What is the extent of your past criminal record? If you have 15 convictions, demonstrating that you are a repeat offender, the judge is going to be much less likely work with us.
3Is the probation preventing you from gaining employment or other benefits? We need to demonstrate to the judge that your probation and your underlying conviction are preventing you from being a productive member of society.
We meticulously address all of these concerns in our pre-hearing interviews with you and in the PC 1203.3 petition and supporting documents we file with the court on your behalf.
The average early termination of probation case in California can take 6-12 weeks, and thus it is important to have us start working on your case as soon as possible. Almost always a mandatory hearing is required in front of the judge, wherein evidentiary support must be provided in support of your early termination of probation petition. It is also quite common for the prosecuting attorney to oppose the petition either in writing or in person at the hearing. One of the benefits of hiring a knowledgeable law firm like ours is that we handle everything for you, optimizing your chance of success. We attend the hearing and argue the petition on your behalf in front of the judge, meaning you will not need to personally attend any hearings. We also will prepare a concise and knowledgeable response to any opposition put forth by the prosecuting attorney.
We have a lot of experience in this area and pride ourselves on producing positive outcomes for our clients. So get started today, as getting your probation terminated early and then having the underlying conviction expunged has many tangible benefits for you life, some of which are listed below.
105%
LOWEST PRICE GUARANTEE
Given our knowledge in this area of law we are able to offer low fixed pricing on our early termination of probation service. However, if you find an attorney that is willing to provide the same service for a lower price, then reach out to us and we will likely match their price.
Benefits of Early Termination of Probation In California:
Beyond the peace of mind that terminating probation early can have, it also has real tangible benefits as well:
1Allows the underlying conviction to be expunged sooner.
2Removes all the often very restrictive conditions of your probation.
3Relieves you from the danger of a probation violation. If you are accused of violating any criminal law while on probation, the judge can send you to jail or prison based simply on the violation of your probation.
Benefits of Expungement in California (Once Probation Is Terminated)
Once your probation has been terminated early under California Penal Code 1203.3, we can expunge the underlying conviction (felony or misdemeanor), which provides numerous benefits for your life:
1Removes the conviction from your criminal record.
2In almost all situations an employer cannot ask about a criminal conviction that has been dismissed under Penal Code 1203.4, nor can a criminal conviction that was dismissed be considered for employment purposes.
4Your expunged criminal conviction will not show up on most employer background checks.
5You can truthfully, and legally, answer "NO" on job applications when asked if you have ever been convicted of crime in your life.
6You can greatly increase your earning capacity by becoming eligible for more employment opportunities.
7You can become eligible for many types of professional licenses and certificates.
8Reducing a "wobbler" felony to a misdemeanor can restore certain rights, such as your 2nd Amendment right to own a gun.
9You can become eligible for student loans.
10You can become eligible for housing assistance.
11You can tell friends and family that you have not been convicted of a felony.
12You have the satisfaction of forgetting the past for good and moving forward into a more positive future.

Is Hiring An Experienced Attorney Is Important?
Filing a petition with the court under California Penal Code 1203.3 for early termination of probation is a fairly complex legal matter, which is best handled by an experienced attorney. We have worked on, and won, so many of these types of cases over the years that we know exactly what type of arguments will work with the Court. We are also well versed in the various opposition strategies the District Attorney in each county will attempt to deploy, allowing us to best push back on their opposition points, giving us the best chance at success in your case.
We are experts that specialize in early termination of probation and expungement law in California. We do not do anything else, period. We spend every day working on cases like yours, and we know the intricacies of the California laws, and the California courts, and we know the techniques that provide the optimal chance at success. You will work closely with an experienced attorney throughout the entire process, no exceptions. Unlike other law firms, you will never be passed off to a legal secretary or a legal assistant that does not know the law.
We deeply understand how important this matter is for you and your future, and we will always be there for you every step of the way, applying our expertise and knowledge to the unique details of your case.
WHAT WE DO FOR YOU...
Analyze your unique case details
Provide expert legal advice
conduct necessary legal research
provide an accurate assessment of your chances
Prepare / gather supporting evidence
prepare the motion
file the motion with the appropriate court
serVE prosecuting agency
Pay all court costs
Pay all filling fees
Schedule the hearing
Rospond to any D.A. opposition
Attend required court hearing on your behalf
Argue the case at hearing
obtain a signed court order
update the criminal databases
Refile if necessary
Case follow-up with you
WHAT NON-ATTORNEY SITES DO...
Help Prepare initial motion
We handle everything for you from start to finish!
Isn't it time you took the steps to forget the past, allowing you to fully embrace the future. Once you sign up to terminate your probation early with us, we will start on your case immediately, applying our expertise to the unique details of your situation. We specialize in drilling down into the unique facts of your case, wherein we will find the most persuasive arguments for early termination of your criminal probationary term. We typically can get your PC 1203.3 motion filed with the appropriate court within 72 hours of receiving all of your information. With our low fixed pricing, open communication, and expertise in this area of low, you can rest assured that you are in good hand. I greatly appreciate you taking the time to consider our early termination of probation services and I hope you found the information on our website helpful. I truly look forward to helping you forget the mistakes of your past.
Sincerely,


David Huffman, Esq.
Founding Attorney, Fresh Start Law Center